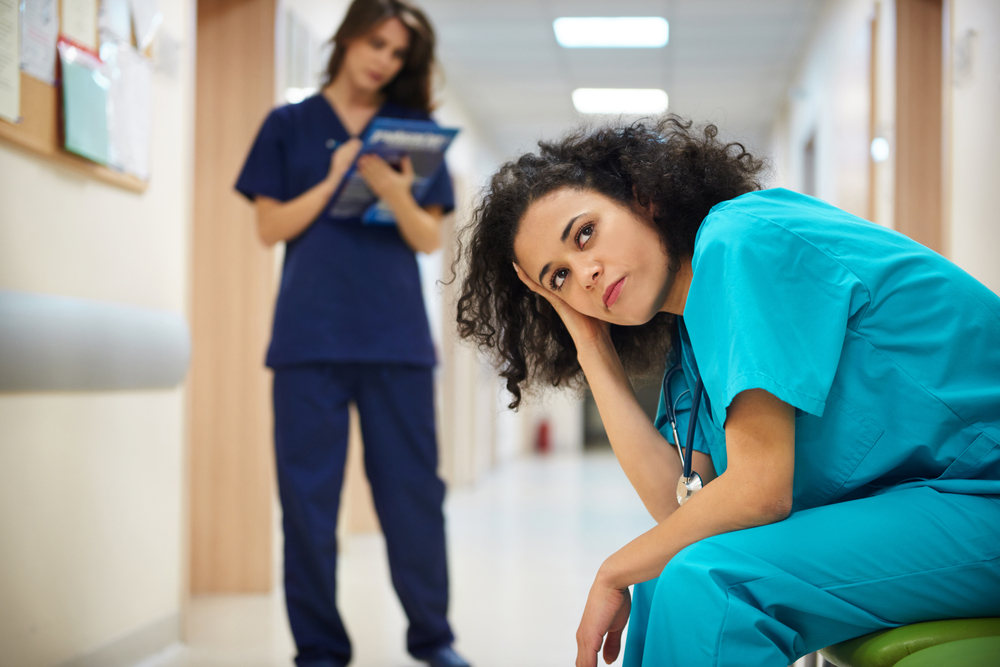 Nurse burnout has been discussed and debated for years but remains a significant issue which impacts nurses and their patients. It decreases patient satisfaction on survey scores which impact hospital ratings. Nursing burnout has a ripple effect and impacts the nurse, the patient, and the healthcare system overall.
What is the difference between being stressed and being "burned out?"
A stressed nurse is an overwhelmed nurse and one that feels that they cannot meet their patient's needs in a safe and caring way due to acuity, workload, stressful environment and other factors. The nurse cares very much about patients which causes him or her stress.
A burned out nurse has disengaged from caring and can distance themselves from their patient needs.
How does burnout impact patient care?
Nursing burnout is the antithesis of great nursing care. Burnout does not affect the nurse singularly. It ripples through the work environment and wreaks havoc. Burnout can impact comradery and create an unhealthy working environment by increased call-offs, tension, medication errors, and poor patient satisfaction. You don't have to be in the profession too long before you know how important "Patient Care Surveys" are!
What can a new nurse do about burnout?
Nursing has been described as the most "caring" profession, but more often than not, that care is not directed inward. A nurse may not be able to control whether her coworker calls off or the acuity of her patients but what she can do is take care of herself. Florence Nightingale described nursing as the both an art and science and referred to it as "the highest form of fine art" as the medium is a living being. The most important thing that a nurse can do is to learn the art of self-care and extend that care to all that she interfaces and interacts with in her day. Here is a short biography of the amazing Florence Nightingale:
Why is self-care important?
The practice of self-care builds resiliency or wiggle room into a nurse's day. It silences the screaming tea-kettle for several moments of respite in a hectic work environment. It is this reserve or wiggle room that builds resiliency and can make all the difference in the world to both the nurse and the patient. A resilient nurse is more able to handle the stressors that he or she encounters at work and home.
How can a nurse practice self-care on the unit when so much of his or her day is not her design?
Self-care opportunities in the work environment are not always evident, but there are some things that a new nurse can do to advocate for themselves and their patients.
Keep your license. Know your scope! Be familiar with the scope of the Nurse Practice Act for both the state of employ and the facility. The Nurse Practice Act is nursing law and knowing the scope of practice keeps a nurse's license's safe. That's a big stress reduction right there!
A new nurse must learn how to say no to things that she is not confident that she understands or knows how to do safely and competently. This can be difficult because your co-workers will be asking and sometimes demanding that you perform tasks that are not in your scope of practice. If possible, a new or graduate nurse should seek employment at a magnet hospital which offers excellent mentoring, nurse education opportunities, and a just culture.


You can find all magnet facilities on the ANCC website (ANCC)

Most new nurses enter the profession with visions of being a "flight nurse" or working in the operating room. Medical-surgical nursing is not considered glamorous, but it does provide a great baseline and enriches a new nurse's skill set. A good base of clinical experiences and assessment skills can go a long way in keeping your license safe. Keeping your license safe keeps burnout at bay.
Consider your interview with a dual purpose. Most people spend one-third of their lives at their jobs so keep this in perspective. If possible, take the time to carefully consider how this job will enrich your life in ways other than finances. Aspire to work in a hospital with strong nursing leadership, nursing advocacy, and a just culture.
Know yourself and your limitations. If you are taking care of twins, a sick parent, or have four kids in hockey, it might not be a good idea or the time to realize your dream of being an operating room nurse. Nursing has such a wide range of employment opportunities with differently structured work hours. Explore them to find one that meets your work and life balance. Many larger hospitals offer employee support options such as Life Solutions to help employees with work and life balance.
Put your ego aside. Every patient in front of any nurse is a worthy one. Nursing homes can offer a slower pace and amazing learning opportunities because of the acuity of patients that are transitioned there from acute care. The opportunity for caring and providing excellent care abounds in all patient care settings. Consider all of your options.


Nursing home jobs require independent thinking and provide priceless experience

Build reserve or wiggle room into your day. Take the time to organize your day. Arrive at work at least 10 minutes early. The shift you relieve of their duties will be grateful, and that is a wonderful way to start your day.
Don't be a hero. Take bathroom breaks. Do not miss a break unless critical and then take one as soon as possible.


Treat yourself to a nice cup of coffee or a healthy snack

Learn to be your best advocate and then advocate for yourself. Know your value and provide value to your patients and your employer. It feels good.
Be pleasant and direct. Ask for clarification if needed. Do not assume what others think. Learn to ask for clarification. It will save you much time and trouble. Know your scope. It's the law.
Learn to take care of yourself! You are and always will be your most important patient!
A resilient nurse is a happier nurse!
Nursing burnout is common in nursing and causes both nurse and patient dissatisfaction. Many times it cannot be prevented altogether because healthcare if becoming more complicated but there are steps that can help build resiliency and help keep a nurse in love with nursing. A new nurse needs to heed the words of every flight attendant who tells us patiently again and again. "Put the oxygen mask on yourself first! If you cannot breathe, you cannot help anyone else!"